If you've been waiting for a good time to buy a house, then now may just be the best time for you to do it! Interest rates on mortgages are projected to rise in the future, so buying a home in a few years could be incredibly more expensive than it is right now. If you've been thinking about buying a home soon, read this post for more information on why you should buy a house now.
Interest Rates Are Rising Rapidly
Check out this graph- you can see that interest rates are starting climb. Imagine what it will be in two years from now!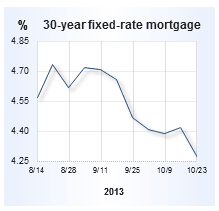 As rates have been rising since May of this year, you can easily see how quickly they've gone up. If you want to buy a home anytime soon, you are likely to be better off buying now before the interest rates spike higher.
Don't Dump Money Into An Apartment
When you think about it, apartments are kind of a waste of money. You pour money into something that will never actually be yours. Although with a house, you might have a higher monthly payment than your apartment bill, at least you're paying yourself in a way.
Check out this video for more information on why you should buy a home now.


So what do you think? Do you agree? Are you planning to buy a home soon? What's your plan? If you have more questions, feel free to post on here, or contact us! We truly want to help you, even if it's just answering your questions. Share your questions with us on Facebook, because chances are, you're not the only one who has the question so you can help others get answers, too, when we answer it for you!
Sources: